Updates on the Trayvon Martin case: Obama Files Federal Charges Against George Zimmerman Following Acquittal in Shooting Murder of Trayvon Martin and Protesters erupts from coast to coast.

Also see: how George Zimmerman was Found Not Guilty of Trayvon Martin Murder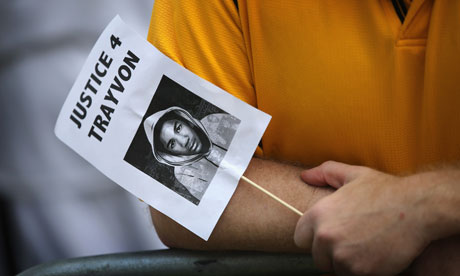 George Zimmerman in court, left, and Trayvon Martin (AP) 
 Also see: how George Zimmerman was Found Not Guilty of Trayvon Martin Murder
Just when we thought the George Zimmerman/Trayvon Martin case was over after Zimmerman's acquittal, the Obama Administration has taken the steps needed to file federal charges, thus sidestepping the well established double jeopardy, against Zimmerman.  Unidentified sources within the Administration have confirmed that Obama, and Justice Eric Holder at the Department of Justice have filed charges against Zimmerman for "violating Trayvon Martin's civil rights".
Double jeopardy is an often misunderstood concept in American Law.  The rule merely states that an individual cannot be tried twice for the same crime in the SAME COURT.  Liberal Justice Department officials often charge Americans with crimes from which they have previously been acquitted by filing federal charges on a similar crime in a federal court.
Judge Debra Nelson(above)
At approximately 10:01 pm EST this evening Judge Debra Nelson (pictured above) announced that the all women jury had found Zimmerman not guilty of fatally shooting and killing the 17-year old Trayvon Martin in Sanford, FL, just over one year ago.
The case has received national attention and nearly wall-to-wall coverage on all mainstream media outlets.  While Al Sharpton and the entire staff at MSNBC has advocated heavily for a guilty verdict, we on the right have been praying for an acquittal for Zimmerman who was simply exercising his right to "Stand your Ground" (a Florida statute that apparently allows individuals to follow, track, then attack young Black youth before shooting them dead if feeling at all threatened throughout the process).
Also see: how George Zimmerman was Found Not Guilty of Trayvon Martin Murder
Obama has actively used his influence throughout the case (think "If I had a son he would look like Trayvon").  Earlier this week, multiple sources, including Fox News, Rush Limbaugh, Glenn Beck and the entire right wing, has reported on the involvement of the Federal Government in spending millions of dollars in support of anti-Zimmerman protests (race riots).
According to Fox News, " The Community Relations Service (CRS), a unit of DOJ, reported expenses related to its deployment in Sanford to help manage protests between March and April 2012, according to documents obtained by the watchdog group Judicial Watch."
via: nationalreport.net
Also see: how George Zimmerman was Found Not Guilty of Trayvon Martin Murder
Also
Protests erupt from coast to coast after George Zimmerman goes FREE
Protests are spreading across the country today following the sensational not-guilty verdict for George Zimmerman after he shot dead teenager Trayvon Martin.
Demonstrations, from Florida where the trial took place to Atlanta, DC and New York, remained largely peaceful – although pockets of violence had erupted in Oakland, California.
Crowds carried signs calling for justice as police assembled close by to monitor activity – fearful that strong reactions to the verdict could spill over into rioting amid racial tensions.
Zimmerman, a 29-year-old Hispanic, looked visibly relieved at the Seminole court on Saturday evening after the jury of six women reached their conclusion that he had justifiably killed the unarmed black 17-year-old last February.
Also see: how George Zimmerman was Found Not Guilty of Trayvon Martin Murder
Violence: Protestors in Oakland, California, set fire to garbage cans and and battered cars during a protest against the George Zimmerman acquittal on Saturday
Distress: A mother who was listening to the end of the Zimmerman trial with her children weeps at the jury's decision
Rally: Protesters in Los Angeles gather to show their response to the Zimmerman trial on Saturday night as demonstrations spread across the country
In Oakland, California, long a hotbed of racial tension, some protestors turned violent – vandalizing police cars, breaking windows and setting fire to garbage cans.
One photo from the protests in the city shows men dousing a flag in lighter fluid and setting it alight.
More demonstrations are planned today under the banner of 'Justice 4 Trayvon.' At least three separate protests are scheduled for New York City alone – one in lower Manhattan, one in Harlem an a third in Brooklyn.
The verdict on the case that has bitterly divided the nation, after the jury took more than 16 hours and 20 minutes over two days to reach their conclusion.
Violence: A BART police vehicle is vandalized during a protest after George Zimmerman was found not guilty
Demonstrators also burned an American flag to show their displeasure with the jury verdict, which saw Zimmerman go free
Damage done: A window is smashed at the Sears store on Telegraph Avenue in Oakland, California following the verdict from the five-week trial 
They unanimously decided the neighborhood watch volunteer and would-be cop justifiably killed the unarmed teen because he believed his life was threatened on that February night in Florida last year.
As the judge announced that Zimmerman had no other business with the Seminole court just after 10pm on Saturday, his mother, who was sat in the court, beamed a smile for the first time during the trial and his emotional wife broke down in tears.
Zimmerman jubilantly embraced both – realizing that after a year and a half of living as a hermit and virtual recluse – he was now a free man.
Trayvon's parents, Tracy Martin and Sybrina Fulton, were not in court to hear the verdict.
They later took to Twitter to acknowledge their deep disappointment at the verdict.
Victim: Zimmerman was accused of murdering the unarmed black teenager Trayvon Martin after following him with a gun last year
Relief: George Zimmerman breaks into a smile of relief a few moments after being cleared of all charges
A tweet from his father read: 'God blessed Me & Sybrina with Tray and even in his death I know my baby proud of the FIGHT we along with all of you put up for him GOD BLESS'
As the long-awaited verdict drew near, police and city leaders in the Orlando suburb of Sanford and other parts of the U.S. nervously said they were taking precautions against the possibility of mass protests or unrest.
'There is no party in this case who wants to see any violence,' Seminole County Sheriff Don Eslinger said immediately after jurors began deliberating.
Also see: how George Zimmerman was Found Not Guilty of Trayvon Martin Murder
Outrage: A man screams during a demonstration in downtown Manhattan after the news that George Zimmerman was found not guilty in the 2012 shooting death of Martin
Workers board up windows at Flora restaurant in downtown Oakland, California early on Sunday following eruptions of violence
*Latest Update*
As the protesting goes on, Diddy's owned Revolt.TV have made a "Remembering Trayvon Martin" video
Watch Revolt.Tv "Remembering Trayvon Martin" video below