2013 Hungarian GP: Lewis Hamilton wins first race for Mercedes as tyre fears evaporate
Raikkonen holds off Vettel for second but Alonso only fifth

Lewis Hamilton brilliantly confounded all pre-race expectations to finally convert a pole position into a maiden victory for Mercedes in the Hungarian GP and suggest he could yet pose a major title threat in the second half of 2013.
Despite having claimed what in itself was an unexpected fourth pole for his new employers on Saturday, Hamilton had suggested it would be a "miracle" if he triumphed around the tortuous Hungaroring in race conditions given high temperatures were likely to exacerbate Mercedes' long-standing tyre wear woes.
However, despite the sweltering hot weather duly materialising on Sunday afternoon, Hamilton's W04 amazingly showed no obvious signs of excessive degradation and from the front he balanced controlled race pace with moments of razor-sharp aggression to deliver a commanding victory for Mercedes at the tenth attempt since arriving at Brackley in January.
The victory was not only a record-equalling fourth of his career in Budapest, the same as the great Michael Schumacher, but suggests that a serious World Championship challenge that many had already written off might not yet be out of the question when the season reconvenes after the four-week summer break.
"This is surely one of the most important wins of my career. To move to a new team and win for Mercedes-Benz is a real privilege. I couldn't be happier," a beaming Hamilton told Sky Sports F1's Martin Brundle on the podium after his 22nd career win.
"We have to work hard, but if we can come here and make our tyres work then we ought to be able to do it anywhere."
Hamilton heads into the holidays 48 points down on Sebastian Vettel, but within ten of the second place now occupied by Kimi Raikkonen after the Lotus driver beat the championship leader to the runner-up position in Budapest.
Vettel's attempts to stay with Hamilton were badly compromised after the first round of pitstops when he spent 12 laps stuck in the dirty air of the long-running McLaren of Jenson Button.
While Hamilton had managed to dispense with his former team-mate at the earliest opportunity, Vettel had no such joy and, in a sign of his growing frustration, even damaged his front wing against Button's rear tyre in a botched overtaking move.
After the contact Vettel had briefly seemed in danger of losing further ground as he dropped back from the McLaren, but his performance stabilised therefore and once belatedly past Button he was able to show the undoubted strong performance of the RB9, although it was by then too late to trouble the increasingly serene Hamilton.
The time lost behind Button would also produce a final sting in the tail as Vettel was ultimately jumped by Raikkonen as Lotus rolled the strategy dice they avoided to widespread disbelief three weeks ago at the Nurburgring and didn't pit the Finn for a third time.
Vettel initially caught his prospective 2014 team-mate at a fast rate of knots after his final pitstop but, despite a desperate late bid to pass the Lotus which saw the World Champion run wide on several occasions, Raikkonen hung on at the end of a mammoth 33-lap stint to finish second both in Hungary, and the 2013 season, for the fifth time.
There was some comfort for the Vettel in that his erstwhile closest championship rival Fernando Alonso finished a distant fifth after a relatively low-key afternoon in a Ferrari F138 that worryingly finished half a minute adrift of Hamilton.
The Spaniard even lost out to the other Red Bull of Mark Webber who staged a fine recovery drive on a reverse tyre strategy after electrical problems in qualifying had left the seething Australian down in tenth place on the grid.
Romain Grosjean finished right behind Alonso in sixth but in many ways could count himself unfortunate to see his otherwise impressive weekend go scantly rewarded after he had earlier picked up a drive-through penalty.
Having already been put under investigation for clouting the side of Button's McLaren at the chicane, which later resulted in a 20-second time penalty that didn't serve to affect the finishing order, Grosjean was penalised for putting all four wheels outside of the track at the top at turn four in what had appeared a breathtaking move around the outside of Felipe Massa.
The aforementioned Button and Massa finished seventh and eighth respectively after eventful afternoons for both, with Sergio Perez's ninth place ensuring McLaren closed to within two points of Force India's fifth place in the standings, the Silverstone-based team failing to score for the second straight race after losing Adrian Sutil through a hydraulics fault early on.
And in a result that's likely to be welcomed throughout the sport, Williams finally got their 2013 points account up and running as Pastor Maldonado took advantage of Nico Rosberg's fiery late retirement to snare the final point.
Via: Sky Sport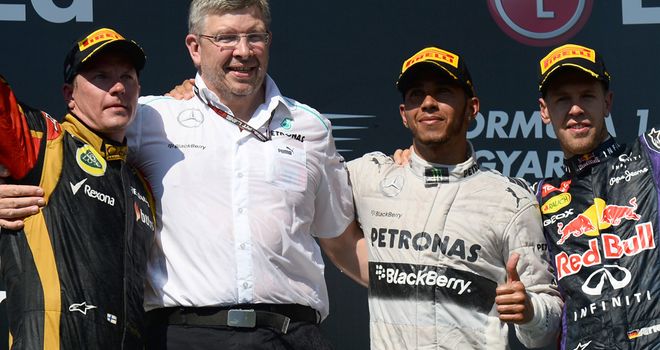 What do you think? Let us know in Comments below or send an email to the author at Contacts