Microsoft has today bought Nokia mobile unit for £4.6bn in order to compete with Apple and Google.
Eyes and Voice have learned that Microsoft; the software giant is looking forward to making profits in the mobile market, and has decided to acquire the struggling Nokia mobile unit to do so.
Microsoft  today took over Nokia's struggling mobile phone division and acquired a broad portfolio of patents in a massive €5.4 billion (£4.6 billion) deal, Eyes and Voice learned.
Stephen Elop Nokia chief executive , a former Microsoft executive, will continue to run the division and he is now rated highly as the favourite to succeed Microsoft chief executive Steve Ballmer, a source told Eyes and Voice.
Steven Ballmer announced last month he would step down after pressure from Microsoft shareholders who have not been particularly happy that Microsoft has failed to keep up with rival Apple and Samsung both in phones and tablets.
Shares in Nokia, which still has a successful telecom networks and equipment business, surged 36 per cent on news that it was off-loading the handsets division after years of dire results.
Eyes and Voice learned that Microsoft is paying €3.79 billion for the business and €1.65 billion for Nokia's valuable patents. Around 32,000 Nokia employees will join Microsoft.
The decision by Nokia; the Finnish firm, once the market leader in mobile phones, to sell illustrates the dramatically changing fortunes of the industry that Samsung and Apple now dominate.
The Microsoft acquisition of Nokia comes a day after Vodafone sold its 45 per cent stake in America's Verizon Wireless for £84 billion amid a frenzy of takeover activity in the growing global mobile industry.
As of 2008, Nokia used had nearly 40 per cent worldwide market share in mobile phone sales but now that has dropped to just 14 per cent, according to research made by Gartner .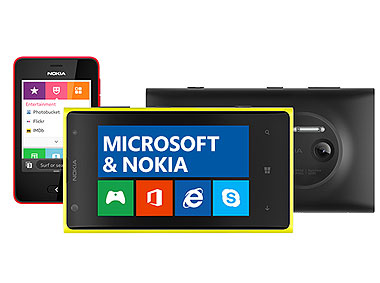 What do you think? Let us know in Comments below or send an email to the author at Contacts