How R Kelly killed his career the second time with #AskRKelly
In an attempt to interact with his many Black Twitter followers by engaging in an interesting Q&A session with them, R. Kelly's #AskRKelly idea quickly turned against him as fans took the hashtag to a whole other level of grimy.
Many decided to take aim at his past sexual case in which he slept with a minor, and poke fun at him in various ways by asking pedophile-related questions.
Reports Vlad: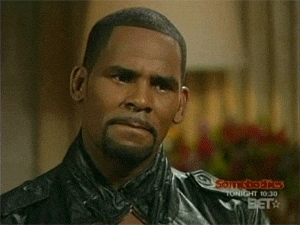 And now…
This is EbenGregory.com…telling you when R. Kelly heard about it he was like:
Disclaimer: This full right of this article is for Ebengregory.com [Eyes and Voice is claiming no right of this article] – see the original article here
Leave your comments on comment box below
…………………………………………………………………………………………………………………………………………..
From everyone here at EYES and VOICE, we are wishing you guys (our readers), A HAPPY NEW YEAR and have a wonderful holiday 🙂
See you guys next year, 2014.