Eyes and Voice: Juan Mata officially joins Manchester Utd and why Mata can not save United
It is official, Eyes and Voice can break that Manchester United has official seal a £37 million deal for Chelsea star Juan Mata.
David Moyes, Manchester United team has seen the worst record of the history of the football club. The new manager who joined the club at the end of last session when long-term serving Alex Fergusion retired, has taking the Manchester United squad to achieve what will be best described as the worst record in history of the club.
David Moyes has not had any luck since taking over United even at the pre-session transfer window where he couldn't buy any player he has hoped for – Moyes could only buy Marouane Fellaini just at the last hour of the transfer window.
See: Done Deal: Manchester United sign Marouane Fellaini from Everton for £27.5m
With Rooney and Van Persie out with injuries and reports that Moyes has not known his best 11 players to play yet, United has repeatedly ended each match day with bad results bot home and away.
In some reports weeks ago, David Moyes was quoted that he was satisfied with the players he has got and will not buy new players in the January transfer window.
Pressure for the David Moyes to buy new players has continued to rise and with Manchester United out of the League Cup after losing on penalty shoot outs yesterday to Sunderland, Moyes has realized its time for a change.
After days of reports and speculations, Who was Moyes going to buy? Sell? Even Rooney is being said will leave the United come end of the session – Rooney is being linked to go Real Madrid.
Juan Mata Officially Joins Manchester United
Manchester United F.C have sealed the deal and landed Juan Mata from Chelsea in a £37 Million deal and will official be seen on the red devil's  red shirt before the end of this week.
The 25 year old Spain Midfielder will be flown on helicopter to Old Trafford to under go medical any moment from now.
Eyes and Voice has learned that the deal has been concluded but that United are treating this deal with extreme caution after their failure to land a string of big names last summer.
Mata will definitely join David Moyes' side any moment from now, Eyes and Voice learnt.
Juan Mata who has not being fully included in first team football for Chelsea this session was determined to leave the club after becoming frustrated with his failure to impress Jose Mourinho.
Also leaving the club and regularly for United will improve his chance of featuring in Spain's World Cup team later this year.
See: Brazil 2014 FIFA World Cup group draws and Match fixtures [time, venue and date]
Why Juan Mata can not save Manchester United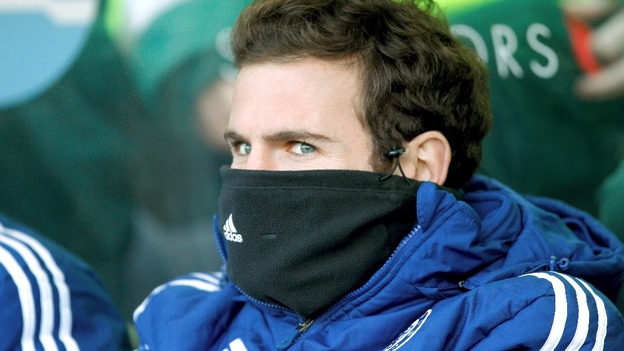 Jose Mourinho allowing Juan Mata to leave Chelsea to join its biggest rival United, shows that Jose is not threatened by Manchester United squad in any shape or form.
Why is Juan Mata not featuring in featuring in Chelsea first team squad this session anyway? When last session and the session before Mata was the best player  in Chelsea and the premier league as a whole. Is it not that Juan Mata might JUST not be good enough anymore? Maybe his big days are over… Does anyone remember a person called Fernando Torres??
Thirdly, Manchester United not only need to buy a midfielder but Moyes need to buy defenders – Smalling, Jones, Evans and Rafeal are just not good enough… Evra can stay thou (he's still very good).
Personally, I think David Moyes need to buy new eleven (11) players. Nani, Young, everyone one of them are just good enough – excluding Van Persie, and that young 18 years old boy… Adnan Januzaj. And OK, maybe Rooney.
David Moyes should stop "over training" this players, this is not Everton! Apparently Van Persie was reported saying that the training regime of David Moyes is too intense for him and has resulted to his injuries.
Juan Mata cannot save Manchester United recent struggles, United just need to get more players both in the Midfield and defense.
If Man United was to finish top four this session and get to the Champions league next session, it will need more that just buying Mata for a club record fee but all the other Manchester United players need to set up their game.
And lastly, where is Marouane Fellaini?? – Please don't tell me he's still on his finger injuries…
…………………………………………………………………………………………………………
Leave your comments on comment box below