Katy Perry Accused Of 'Blasphemy' by the Muslim Community
Katy Perry has been accused of 'portraying blasphemy' with her new music video 'Dark Horse'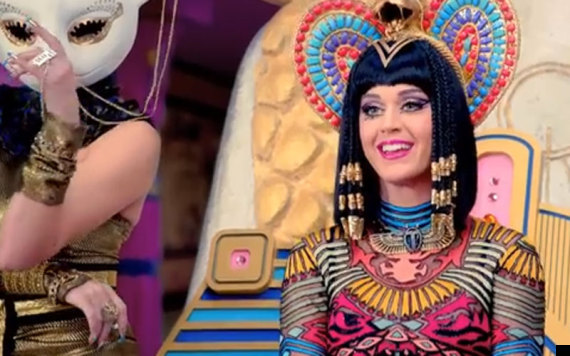 Katy Perry's new music video have attracted calls from the Muslim community for 'Dark Horse' to be removed from YouTube for its "inappropriate content".
A petition for Katy Perry's new music video, Dark Horse, to be removed from YouTube has been launched after she was accused of blasphemy by Muslims.
Over 50,000 names have appeared on the online petition asking for the pop singer's new video to be brought down for portraying a pendant that inscribed 'Allah' in Arabic script.
According to the petitioners which you can find at Change.org, the video is guilty of "portraying blasphemy", because of the video's use of a pendant reportedly inscribed with the word Allah.
As of now, the petition has been signed by 57,680 plus supporters…
Below is the full details for lodging the petition:
"This petition is lodged In regards to  Katy Perry's music video 'Dark Horse'; hosted by KatyPerryVEVO, on YouTube.
"The video is considered as highly controversial to its viewers as a result of its portrayal of blasphemy.
"At 01:15 into the video Dark Horse; a man is shown being burned, whilst wearing a pendant (also burned) forming the word 'Allah', which is the arabic word for God.
"Such goes to show, that blasphemy is clearly conveyed in the video, since Katy Perry (who appears to be representing an opposition of God) engulfs the believer and the word God in flames.
"This is the reason for lodging the petition so that people from different walks of life, different religions and from different parts of the world, agree that the video promotes blasphemy, using the name of God in an irrelevant and distasteful manner would be considered inappropriate by any religion
"We hope that the video itself depicting such images is removed. Such acts are not condoned nor tolerated, we hope YouTube will remove the video".
The petitions was lodged by Shazad Iqbal of Bradford, UK.
Watch Video: Katy Perry 'Dark Horse'
……………………………………………………………………………………………………
Leave your comments on comment box below