Oscar Pistorius Apologised for Killing Girlfriend Reeva Steenkamp
Oscar Pistorius Trial continues as he takes to the stand in tears and stating: "I'm sorry. I was just trying to protect her".
As Oscar Pistorius takes to the stand to begin his testiomony, a  tearful, stuttering and seemingly grief-stricken Pistorius apologized to the Steenkamp family sitting in the court room.
"I will start my evidence by tendering an apology," Pistorius said. "I would like to apologise to Mr and Mrs Steenkamp, her family and friends. "I can't imagine the pain and the sorrow and the emptiness I have caused you and your family. "You're the first people I think of when I wake up. You're the first people I pray for. I was trying to protect Reeva. When she went to bed that night, she felt loved. "I've tried to put my pen to paper many times to write to you but no words would ever suffice."
This is the sixth week of the trail at North Gauteng High Court in Pretoria.
During Oscar Pistorius' testimony, when asked, the Paralympic athlete also revealed that he has been taking anti-depressants since the accident happened, and other medication to help him sleep at night.
"I can't sleep", "I wake up terrified", Pistorius stated. "I'm scared to sleep," he said in tears. "I have terrible nightmares about what happened that night. I can smell blood. I wake up terrified."
In the witness box, Pistorius, 27 also stated that he "never wants to be a near a firearm again".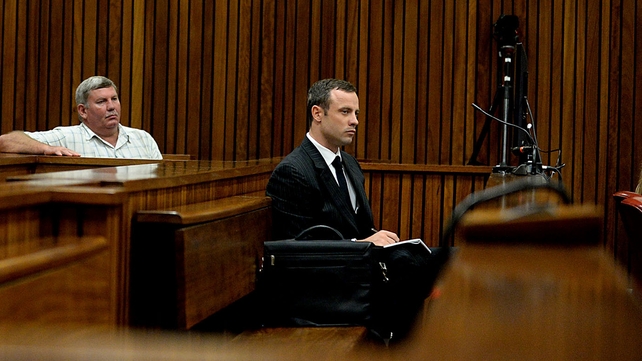 Oscar Pistorius Mental Problems:
As his testimony continued, the athlete told the court about his mental issues stating that in one occasion he woke in a panic in the middle of the night, and hid in a cupboard, and called his sister who came round to look after him.
"I climbed into a cupboard and I phoned my sister to come and sit by me, which she did for a while," he said. "I'm just in a complete state of terror. I fall asleep and wake up like that."
Oscar Pistorius' sister, Amie, sat in the court room and listened in tears.
In an earlier trial, Pistorius vomited in court after forensic pathologist Jan Botha described the wounds sustained by Ms Steenkamp the night she was shot through a locked toilet door.
According to the prosecution, Oscar Pistorius was jealous boyfriend who often snapped at Ms Steenkamp and accused her of flirting with other men. Eyes and Voice learned.
In a text message sent on 27 January, Ms Steenkamp wrote: "I'm scared of you sometimes and how you snap at me". The model said she felt "picked on" and "attacked" by the one person she deserved protection from – referring to the athlete.
Watch the Live Footage of the Trial below
The trail has ended for today, the court has adjured the trail to tomorrow as Oscar Pistorius is "exhausted", "tired" and have slept.
Your Thoughts? Tell us in the comment box below
Also see:
……………………………………………………………………………………………………