Janet Jackson Returning To The Spotlight?
A couple of days ago Janet Jackson's long term producer Jimmy Jam sent out an interesting tweet suggesting that there was "some exciting" news to come from the legendary singer, leaving fans questioning if a new project is finally on the horizon?
Ever since Janet married Qatari billionaire Wissam Al Mana back in 2012 things have been quiet for the 'All for You' performer, leaving fans questioning her whereabouts and the progress on her new album. Last year she confirmed that she was working on "creating the concept and initial thoughts on the music", however since then nothing else had been confirmed to the public until now.
There were reports that Janet had retired from the public eye and had moved to the middle east, whilst this was never confirmed to be true or false it did make people question about whether this was the right move or not? One could argue that Janet deserved to take a step back from the spotlight due to the fact that she had been performing consistently since she was a child and that she earned the right to retire.
Whereas others had pointed out that Janet's best work had come after long periods of absence and she should rightfully only come back when completely ready.
Her last full studio album was 'Discipline' in 2008 which reached number 1 in the Billboard 200 album charts and featured the hit single 'Feedback'. She soon followed this up with the 'Rock Witchu Tour' which ran for only 16 dates across North America. After the death of her brother Michael in 2009 she released 'Number Ones' her second hits compilation and toured the world with her successful 'Up Close and Personal Tour'.
During this time she returned to acting with two Tyler Perry movies, one being 'Why Did I Get Married Too?' and an acclaimed role in the ensemble drama 'For Colored Girls'.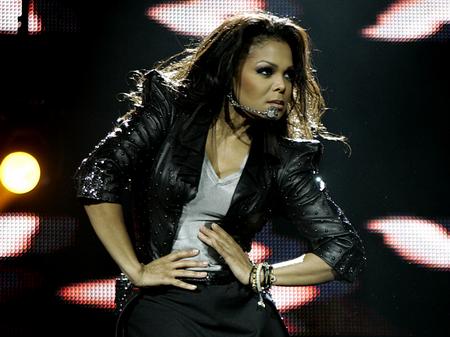 As a Janet fan it is increasingly frustrating to see her legacy somewhat forgotten in the mainstream public eye. Ever since that incident at the 2004 Super Bowl Halftime show her cultural impact had largely been scrutinized and ignored in favor of the mainstream media focusing on a 3 second malfunction and the controversy surrounding her family.
Over the last year or so the only tabloid reports on her have been negative ones whether it was the untrue reports about her marriage collapsing or the footage of her 'arguing' with her nieces and nephews over Michael Jackson's estate.
Sadly all of this can play a part in overshadowing her impressive achievements. After initially only be known for being the baby of the Jackson clan she managed to take control (sorry couldn't resist!) and create a legacy for herself.
She soon became one the most successful female recording artists of all time selling over 100 million records, winning 5 Grammys, having 10 U.S. number ones (just on the Pop charts alone), the most successful debut tour of all time, becoming the first MTV Icon and the only Jackson to have been nominated for an Academy Award.
Many popular musicians today have been influence by the 'Together Again' star. Artists such as Britney Spears, P!nk, Rihanna, Jennifer Lopez, Ciara and Beyoncé have all acknowledge the impact that Janet has had in their career.
Whether it is through image, sound or choreography it is not hard to notice the similarities between them and work that Janet has done prior. Even when Beyoncé released her visual album last year some fans were quick to point out the similarities between that body of work and Janet's 1997 classic 'The Velvet Rope'.
So regarding Jimmy Jam's tweet whether it is simply implying a new song, album, project or endorsement it will definitely be something to take notice of. Whether you're a fan or simply intrigued into what direction Janet is now taking her career in, there is now a level of anticipation that hopefully the mainstream media cannot ignore anymore.
It's your move Ms. Jackson, we can't wait to see what direction you go in!
What do you think? Tell us in the comment box below
Also see:
……………………………………………………………………………………………………