Donald Sterling is an Extremist Racist:

The L.A. Clippers owner's girlfriend and personal assistant, V. [Vanessa] Stiviano recorded a tape of Mr. Sterling ranting of how he hates black people and minorities.
The tape was recorded during an argument between the billionaire and his girlfriend who is mixed race. This revelation shows that racism is still very much present in our society and these racists tends to express their feelings in a more enclose environment – with their friends, family, associates and colleagues.
'They will smile to your face but hate on you behind!' 
They are racist people everywhere, but they are also those people like Donald Sterling, his friends, colleagues and acquaintances who are racist to the extreme.
I notice on the tape that, Mr. Sterling and Miss V. Stiviano  kept mentioning that people (his friends/colleague) have been calling to report of pictures of Miss Stiviano and black people on Instagram.
Who are these people? I believe these friends/colleagues of Sterling are as well guilty. Why are they calling to tell Mr. Sterling of pictures of Miss Stiviano pictures with black people (Magic Johnson), if they thought everyone should be treated the same way no matter your colour.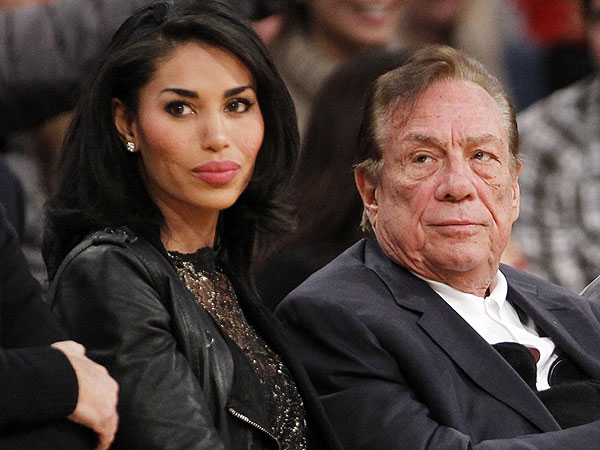 Also on the tape, Donald Sterling told his girlfriend he does not want her bringing black people to his games.
After the news was broke by TMZ, the NBA started their investigation and Sterling has been banned from the NBA for life, fined and suffered sponsor defections from the team.
We here at Eyes and Voice do not think, that is the right decision… (You do not want to hear my opinion!)
Another observation that we here at Eyes and Voice notice was the fact that even as the NBA, L.A. Clippers and most Donald Sterling real estate was occupied by mostly black people and minorities, shows that Mr. Sterling do not mind employing black people just as labourers to make him more money – he is a billionaire.
Its all about profit to him! the NBA banning him for life means he needs to sell the team (L.A. Clippers), which eventually means he is still going to make more profit – so ho does that hurt him?
Done with this!
Listen Audio In Full below: Clippers Owner Donald Sterling rants to Girlfriend about his hate of black people
What do you think? Tell us in the comment box below
Also see:
……………………………………………………………………………………………………