Little Mix Discuss Third Album Plans
UK girl group Little Mix have recently discussed plans for their upcoming third studio album.
The LP which is due to be released later this year has already begun its recording stages and plans to be completed in just two weeks!
The girls plan to work with long term producer TMS, who produced their hit singles 'Wings' and 'Move'.
Ever keen to break the U.S. market, they also plan on working with a number of American producers to add to their pop/R&B sound.
The group spoke of their plans at this past weekends Capital Summertime Ball, which was held at Wembley Stadium.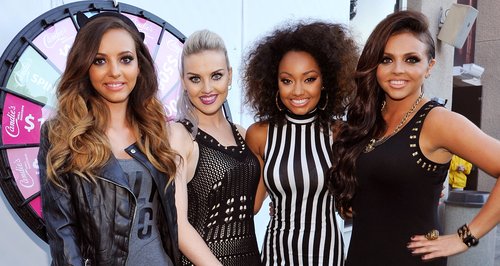 Whilst the girls have continuously built up a name for themselves since winning the UK 'X Factor' in 2011, they have yet to achieve that true signature hit that every girl group needs (e.g. TLC 'Waterfalls', Spice Girls 'Wannabe' or Destiny's Child 'Independent Women').
They are however very popular on social media and their fan base have collectively named themselves 'Mixers'.
Also a key element to their success is their link with One Direction. Not only are they signed to the same label (Syco) but also band member Perrie Edwards is engaged to Zayn Malik.
When it comes to their third studio album they may also have to start thinking about making music that appeals to a more mature audience? Due to the fact that the teen fan base they have are always quick to move on to the next big thing.
Their U.K. success has been higher recently due to their acclaimed performance on the final of 'Britain's Got Talent', which saw the single and album 'Salute' climb back up the charts.
However much of their international success has been front loaded meaning that once the first week sales are out the way their sales have plummeted at a fast rate.
They have to find a style and sound that can appeal to a vast audience if they want to achieve any sense of longevity in today's music industry…
Check out their latest music video 'Salute' below,
What do you think? Tell us in the comment box below
Also see:
……………………………………………………………………………………………………