BREAKING NEWS: 

Scotland will remain part of the UK, as 'No' votes wins Referendum

.
Scotland has voted against becoming an independent country by a projected 55% to 45%.
Today 19 September 2014, history is was not made! voters came out in a record numbers last night (September 18) to cast their vote and now, the Scottish people has decided – Scotland will remain a part of the United Kingdom.
According to our source in Glasgow, Eyes and Voice understands the results was very tight as the 'Yes' campaigners came out in large numbers in different council including the First Minister Alex Salmond, to cast their vote but 'NO' won with a very reasonable percentage margin.
Even with YouGov early from from the previous night (18 September), not until the early hours of this morning (19 September) that the actual results came in.
At 5:15 am Referendum result projected and was announced that Scotland has rejected independence.
Some of the results from different council as it happens. see below….
At 1:30 am, Clackmannanshire result was announced:
"No" won by 19,036 to 16,350. The total number of ballots was 35,410, a turnout of 88.6%.
At 2:04 am, Orkney result broke:
"No" wins by 10,004 to 4,883, or 67% to 33%. There was a turnout of 83.7%
At 2:44 am, Shetland result was announced:
Also, "No" wins by 9,951 votes to 5,669. That is a vote share of 64% for "No" and 36% for "Yes". The turnout was 15,620.
Eyes and Voice has complied some of the details of this Scottish referendum election process, see below…
Vote registrations
There were 4,285,323 people registered to vote – that is about 97% of the possible electorate.
There were 789,024 postal vote applications, which was the largest volume of registration for postal votes ever in Scotland.
Voters Turn Out:
More than expectations, the electoral process recorded an astonishing high voters turn out.
According to reports, Eyes and Voice learned some of the turnout figures are as follow:
The Glasgow turnout is 75%. "At 75% the turnout in Glasgow is markedly lower than elsewhere and appears to be fitting in a pattern whereby the turnout in Scotland's cities is lower than the rest of Scotland."
Dundee City reported a turnout of 78.8%.
Inverclyde recorded a very high turnout with 87% of voters having cast a ballot.
Renfrewshire turnout figure 87.3%. That is 117,612 votes cast.
Orkney turnout is 83.7%, with 14,907 votes cast.
Clackmannanshire's voter turnout is 88.6%, with 35,411 votes cast.
West Dunbartonshire: 62,532 votes, with turnout at 87.9%
Angus turnout is 85.7% and the total number of votes cast is 80,300.
East Ayrshire is 84.5%.
Midlothian turnout is 86.8%, with 60,396 ballot papers.
81,716 votes have been cast in South Ayrshire, representing 86.1% of the electorate
The turnout at East Renfrewshire is 90.4% – total votes to be counted are 66,021
Stirling turnout is 90.1%
Falkirk turnout is 88.7%.
The turnout for Perth and Kinross is 86.9% – 104,285 votes cast
Scottish Borders turnout is 87.4%.
Electoral fraud allegations
On the night, allegations of electoral fraud in Glasgow was announced. The allegations was of double vote impersonation in Glasgow.
According to a report explaining the fraud, it stated:
"These allegations, as I understand it, relate to 10 votes.
"The technical term for the allegation is "personation".
"This is where somebody claiming to be Joe Bloggs turns up at a polling station and votes. Then maybe several hours later when the real Joe Bloggs finishes work and turns up to vote there is a problem. 'I'm sorry sir you have already voted'.
"The allegation is that that has happened on 10 separate occasions at polling stations across Glasgow.
"They will now try to trace the number of those ballots when it comes to the count.
"We have noticed one of them being put aside in an envelope. That will form part of the police investigation as we understand it.
"The number of people registered to vote in Glasgow is 486,219."
SCOTLAND VOTES NO
As the results came in, First Minister Alex Salmond was quick to accept the verdict.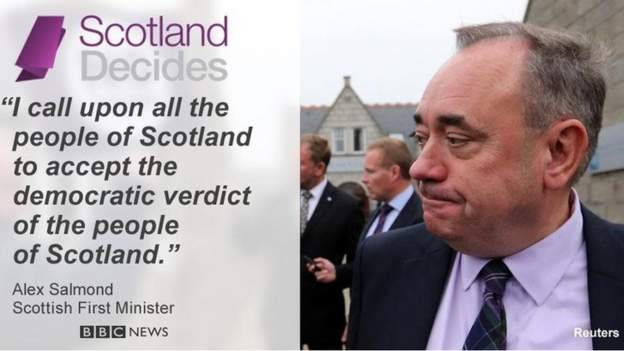 Alex Salmond thanked Scotland for 1.6m votes for independence. Acknowledging that there is a majority for No, he urges all in Scotland to accept that outcome.
David Cameroon on the other hand, was very delighted with the outcome and went on to give his statement.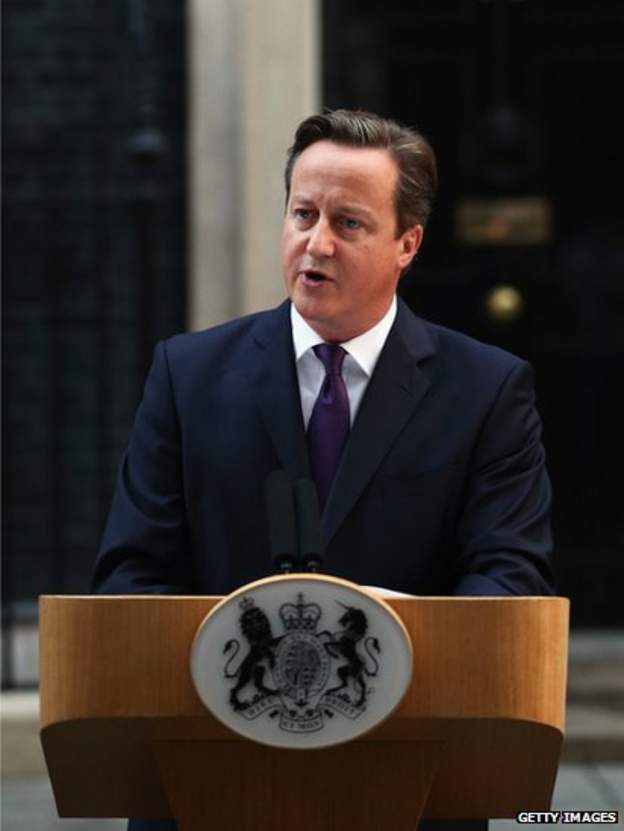 David Cameron said: "The people of Scotland have spoken and it is a clear result. They have kept our country of four nations together and like millions of other people I am delighted."
David Cameron closed his statement by saying: "This referendum has been hard fought, it has stirred strong passions, it has electrified politics in Scotland and caught the imagination of people across the whole of our United Kingdom.
"It will be remembered as a powerful demonstration of the strength and vitality of our ancient democracy."
Do You agree with this Results?
What do you think? Tell us in the comment box below
——————————————————————————————————————
Related:
——————————————————————————————————————