Katy Perry Confirmed for Super Bowl Halftime Show
Pop sensation Katy Perry has finally confirmed reports that she will indeed be headlining the Super Bowl halftime show next year!
The 'Firework' singer released her official halftime commercial hyping up the event in which she teased fans of what to expect during the prestigious slot.
The video sees her exploring her halftime 'testing facility' and showing her larger than life aspects (including spaceships, unicorns, sharks, a time machine and a glitter filled edible stadium) that she has become known for.
The Super Bowl halftime show has always been a popular attraction, but in recent time it has become one of the most sought-after gigs any contemporary musician can have.
Since 2011 pop acts have dominated the stage with headline performances from the The Black Eyed Peas, Madonna, Beyoncé and Bruno Mars.
Bruno Mars performance earlier this year attracted a record 115 million viewers… could Katy Perry possibly top that?
Other famous Super Bowl half-time shows includes Michael Jackson's legendary 1993 performance, Diana Ross leaving her set via a helicopter in 1996, Janet Jackson and Justin Timberlake with that performance in 2004, Prince in 2007 and the much anticipated Destiny's Child reunion during Beyoncé's set in 2013.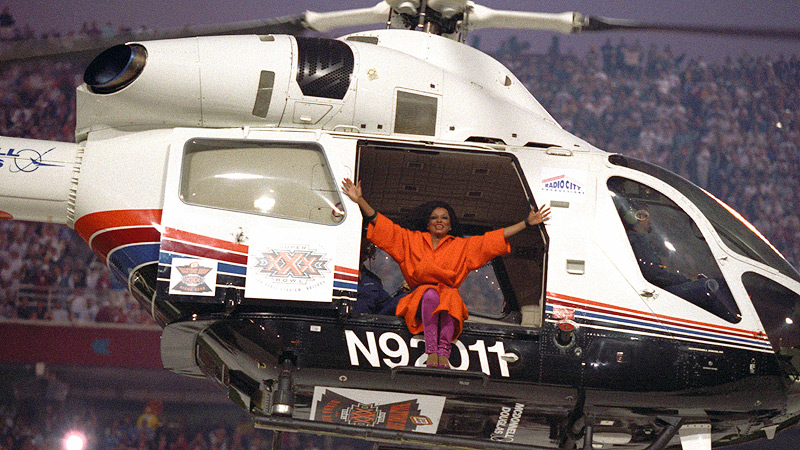 Artists I can see trying to secure a headline slot in the future include Rihanna, Lady Gaga, P!nk, Coldplay, Jennifer Lopez, Justin Timberlake (if they ever allow him back…) and Taylor Swift.
In the meantime check out Katy Perry's Pepsi Super Bowl Halftime commercial below.
What do you think? Tell us in the comment box below
Also see:
————————————————————————