British Royals; William and Kate meets American Royals; Jay Z and Beyoncé – Which couple kept their cool and which got starstruck?
The Analysis: Let us here at Eyes and Voice help you break down what really happened when Prince William and Kate Middleton met Jay Z and Beyoncé.
This historical meeting took place on Monday night at Barclays Center in Brooklyn, and I'm sure, you would like to get the in-depth analysis of their meeting.
Unfortunately, I wasn't there personally but with videos and pictures I saw, I can tell you the few things I observed…
Warm Reception
The Nets fans are obviously used to seeing Beyonce and Jay Z on their games but this is Kate and William's first ever NBA game and the crowd gave them "a warm Brooklyn welcome".
Kate and Beyonce?
At their meeting, Beyoncé and Kate looked at ease, chatting along nicely and smiling. If you want to compare their looks, Beyonce looked way better – her hair and dress.
Who was nervous and starstruck?
Kate did try to keep her cool but Prince Williams was definitely starstruck and a bit nervous when he might Jay Z. He wasn't jumping around like a fan but with his body language, you tell the occasion got to him just a little bit…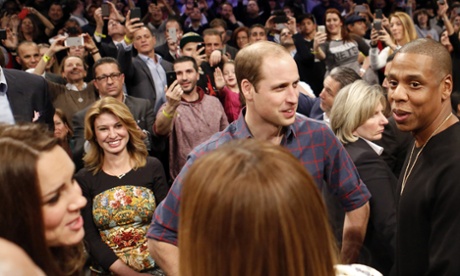 "Wills looks like he's drinking in Jay Z, trying to take in every minute in his company." – The Guardian.
Even when LeBron James asked Prince Will the size of his shoes – you could see the heir to the British throne was a bit shaky, saying the wrong words and later trying to correct himself.
watch the clip below…
What do you think? Tell us in the comment box below
——————————————————————————————————————
Related:
——————————————————————————————————————