88th Academy Awards: Full List of Winners
Hosted by Chris Rock, the 88th Annual Academy Awards took place in Hollywood last night and the world is now breathing the biggest sigh of relief due to the fact that Leonardo DiCaprio is finally an Oscar winner!!!
'The Revenant' star took home the Best Actor award after facing stiff competition from the likes of Bryan Cranston, Michael Fassbender, Eddie Redmayne and Matt Damon. Leo rightfully received a standing ovation for his performance and during his speech took time to raise awareness for climate change – an issue that he has always been strongly passionate about fighting.
Elsewhere Alejandro González Iñárritu won Best Director for the second year in a row for his work on 'The Revenant'. However the blockbuster movie missed out on the Best Picture prize to 'Spotlight', in what was seen as one of the tightest races in recent years.
Not surprisingly Brie Larson won Best Actress for her brilliant performance in 'Room'. The actress has comfortably swept up many awards this season for her role in the Best Picture nominee. Another young rising star Alicia Vikander collected Best Supporting Actress for 'The Danish Girl', despite category fraud protests from some voters and mostly online community members! Nevertheless it's nice to see the Academy reward newer talents…
Mark Rylance managed to beat Sylvester Stallone for Best Supporting Actor for his work on 'Bridge of Spies'. People in this category have traded victories at different award shows all season, but many people had predicted Sylvester to take home to prize. However to those who watched 'Bridge of Spies' simply cannot deny that Mark was a fair winner?!?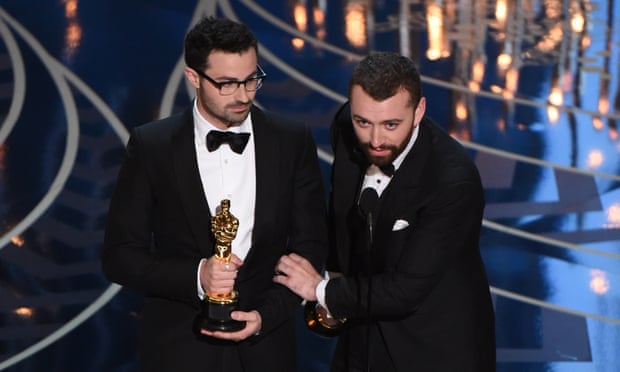 Sam Smith (and Jimmy Napes) can now call themselves Oscar winners thanks to 'Writing's on the Wall' winning Best Original Song. Many people (including myself) had presumed that Lady Gaga and Diane Warren would succeed in this category for their song 'Til It Happens to You', but it looks like voters went for the more popular song and franchise. While i'm sure Gaga's monsters will be disappointed, you must feel for co-writer Diane Warren who has now been nominated eight times and has yet to win the gold.
Overall the biggest winner of the night was 'Mad Max: Fury Road' which won six awards (mostly in technical categories), followed by 'Spotlight' with four and then 'The Revenant' with three.
Check out the full list of winners below.
Best Picture – Spotlight
Best Actor – Leonardo DiCaprio, The Revenant
Best Actress – Brie Larson, Room
Best Supporting Actor – Mark Rylance, Bridge of Spies
Best Supporting Actress – Alicia Vikander, The Danish Girl
Best Director – Alejandro González Iñárritu, The Revenant
Best Original Screenplay – Spotlight, Tom McCarthy and Josh Singer
Best Adapted Screenplay – The Big Short, Adam McKay and Charles Randolph
Best Animated Feature Film – Inside Out
Best Foreign Language Film – Son of Saul (Hungary), László Nemes
Best Documentary Feature – Amy 
Best Documentary Short – A Girl in the River: The Price of Forgiveness
Best Live Action Short Film – Stutterer
Best Animated Short Film – Bear Story
Best Original Score – The Hateful Eight
Best Original Song – Writings on the Wall from Spectre, Sam Smith and Jimmy Napes
Best Sound Editing – Mad Max: Fury Road
Best Sound Mixing – Mad Max: Fury Road
Best Production Design – Mad Max: Fury Road
Best Cinematography – The Revenant
Best Makeup and Hairstyling – Mad Max: Fury Road
Best Costume Design – Mad Max: Fury Road
Best Film Editing – Mad Max: Fury Road
Best Visual Effects – Ex Machina
What do you think? Tell us in the comment box below
Also see:
————————————————————————