2016 BET Awards: The Winners
The BET Awards have pretty much been one of the most consistently entertaining award shows over the last number of years. They always seen to get a right mix of rewarding whats current and appreciating what has come before us. While it's not the perfect show, its definitely lights years ahead of recent VMA awards and more…
With that being said I am pleased to see that BET has stepped up once again with winners and performers that will place nicely with other epic performances from previous ceremonies.
The show started of with a bang with a surprise performance from Beyoncé and Kendrick Lamar who performed their collaboration 'Freedom' from her latest album. The performance was everything you would expect from the Queen B nowadays, proving once again that she is truly untouchable in a live performance setting compared to her peers. It also marked the first time that Beyoncé had performed live at the ceremony in person since 2009, having previous pre-recorded live performances for the show in 2011 and 2014.
The success kept rolling for Beyonce that evening as she collected FIVE awards including Video of the Year, Viewer's Choice and the Centric Award all for 'Formation'. She once again collected the Best Female R&B/Pop Artist award for the seventh time and her BeyHive made sure she was awarded the FANdemonium award yet again! Due to her busy tour schedule, Beyoncé had to catch a plane immediately after her performance leaving mother Tina to collect some of her trophies…
Bryson Tiller truly made an impact with the BET audience over the last year as he won Best New Artist and beat of R&B heavyweights Chris Brown, Jeremih, The Weeknd and Tyrese to win the Best Male R&B/Pop Artist award for the first time. He also performed his hit's 'Exhange' and 'Don't' during the live show.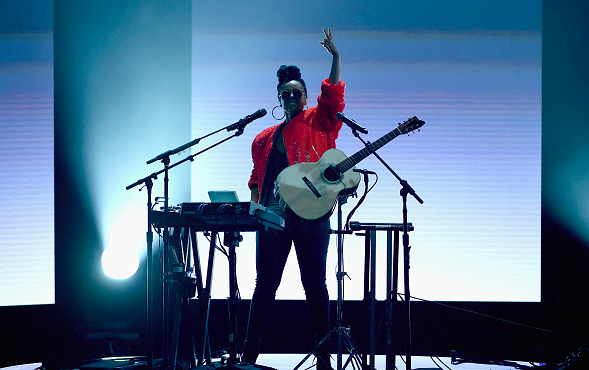 Alicia Keys returned to the BET stage to perform her brilliant new track 'In Common'. The R&B superstar has been making a bold statement as of late by performing with no make-up and enhancing her performance skills by performing with a guitar, as well as her trademark piano during the stripped back performance of the song.
Other performances during the course of evening included Usher, Future, Fat Joe, Remy Ma, French Montana, Chloe x Halle, Desiigner and Bibi Bourelly.
Drake once again had a good evening by winning awards including Best Male Hip-Hop Artist, Best Group (w/ Future) and also sharing Best Collaboration with Rihanna for 'Work'.
On the acting side of things Taraji P. Henson once again walked away with Best Actress for her work on 'Empire'. Whilst Michael B. Jordan was awarded Best Actor for his work on 'Creed' and not for 'Fantastic Four' obviously…
One of the most important moments of the night was the Humanitarian Award which was awarded to Grey's Anatomy actor Jesse Williams. Jesse is a huge Civil Rights activist and spends much of his time away from the screen campaigning for Black rights and for the equalisation of the human race. His speech further enhanced his passion for the work that he does and will no doubt make people stop and think about the truth he continue to preach. Congratulations to Jesse!
Samuel L. Jackson became the first non-singer to be awarded the BET Lifetime Achievement accolade. Samuel's career simply speaks for itself. He has successfully crossed over into every film genre there is and has been apart of some of the biggest movie franchises including Star Wars, Marvel, Quentin Tarantino movies and other classics including Jungle Fever and Jurassic Park.
However the biggest theme of the night belong to Prince. BET made of point of telling audiences that they were going to give him the tribute of all tributes and they certainly didn't disappoint. Musicians including Stevie Wonder, Jennifer Hudson, Tori Kelly, Janelle Monáe, Erykah Badu, The Roots, Bilal and Maxwell all did Prince justice by performing many of his biggest hits.
The evening closed with Prince's long-term collaborator and friend Sheila E. She performed a finale medley of more of Prince's catalogue, earning a standing ovation not only from the audience but the viewer's watching at home. It was first class tribute to the music icon and has no doubt set the bar high for other award shows to come during the year!
Check out the full list of winners below.
Best Male R&B/Pop Artist – Bryson Tiller
Best Female R&B/Pop Artist – Beyoncé
Best Group – Drake & Future
Best Male Hip-Hop Artist – Drake
Best Female Hip-Hop Artist – Nicki Minaj
Best New Artist – Bryson Tiller
Best Collaboration – Rihanna & Drake – 'Work'
Video of the Year – Beyoncé – 'Formation'
Viewer's Choice – Beyoncé – 'Formation'
Centric Award – Beyoncé – 'Formation'
Best Actor – Michael B. Jordan
Best Actress – Taraji P. Henson
Best Movie – Straight Outta Compton
Video Director of the Year – Director X
Best International Act: Africa – Wizkid
Best International Act: UK – Skepta
Sportsman of the Year – Stephen Curry
Sportswoman of the Year – Serena Williams
BET YoungStars Award – Amandla Stenberg
Best Gospel/Inspirational Artist – Kirk Franklin
FANdemonium Award – Beyoncé
Humanitarian Award – Jesse Williams
Lifetime Achievement Award – Samuel L. Jackson
What do you think? Tell us in the comment box below
———————————————